MZ Automation's
October 2023 Newsletter
Series: IEC 61850 University
Title: Mastering IEC 61850 MMS Analysis with Wireshark
Introduction:
In the ever-evolving landscape of industrial automation, the seamless exchange of data between devices is a cornerstone of efficient operations. At the heart of this exchange lies the IEC 61850 standard. In this article, we will explore the power of Wireshark, a versatile network protocol analyzer, and use it to decode the intricacies of IEC 61850 MMS (Manufacturing Message Specification) communications.
Let us consider a scenario where an Intelligent Electronic Device (IED) is connected to a test client, in this case, we are using our IED Configurator and Explorer tools along with Wireshark for the screenshots. We're looking into communication between the client and server. Specifically, we want to understand what happens when the client tells the server to do something, but the server refuses. Wireshark helps us find out why this happens.
Wireshark is a powerful tool for analyzing network protocols. It lets us capture and carefully examine data packets. With Wireshark, we can analyze complex protocols like IEC 61850 MMS in detail.
Configuring Wireshark for IEC 61850 MMS:
The first order of business is configuring Wireshark to recognize and interpret IEC 61850 [MZ1] MMS messages. This entails specifying the MMS protocol and port numbers in Wireshark's settings.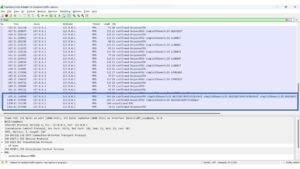 Wireshark's filtering is instrumental in narrowing our focus to the pertinent packets:
Applying a Filter to MMS Messages: We utilize filters to display only those packets relevant to MMS communication.
Refining Our Analysis with Information Report Filters: Further refining our focus, we zero in on information report packets, an invaluable asset for troubleshooting.
Identifying Command Messages and Responses:
Interested in viewing the rest of this article, please click
here
.
New IEC 60870-6 Library release
Fixed TLS Issue (LIBTASE2-1728)
TLS Security Events
Updated mbedtls Version (2.28.5)
Enhanced Getter Functions (LIBTASE2-1731)
Improved Data Set Handling (LIBTASE2-1733)
New Functionality (LIBTASE2-1726)
Updates to our 60870-5-104 Test Tool
Update for .net6

 

Accept TLS private key .pem

 

TLS version selection

 

Status bar on the Python script editor
Update of IronPython .Net Integration
Small graphic updates
Introducing the IED Configurator – Your Gateway to Seamless IEC 61850 Device Configuration
A large amount of time is spent working with complex configurations for your intelligent electronic devices (IEDs). This causes a loss in productivity not only from frustration on the engineers' part but time using outdated configuration software.
MZ Automation is thrilled to unveil our latest innovation – the IED Configurator. With our new tool, we take away the hassle of manual setup, and with our user-friendly tool that simplifies IED configuration like never before.
What is the IED Configurator? Our IED Configurator is a user-friendly tool for engineers and technicians working with IEC 61850 IEDs. This powerful tool empowers you to effortlessly configure address parameters, IED names, control blocks, and data sets. The best part? Most configurations can be completed through simple drag-and-drop operations. It's designed with your convenience in mind.
Key Features:
Seamless configuration with drag-and-drop functionality
Handling of CID and SCD files
Import and export IED configurations from CID and SCD files
With the IED Configurator from MZ Automation, you can streamline your IED setup process, saving time and reducing the risk of errors. Get ready to experience a whole new level of efficiency in your workflow.
Ready to take your IED configuration to the next level? Contact us and let us show you how partnering with MZ Automation can save your team time and effort.
If you are interested in any of our tools, or perhaps are looking for a partner to help develop an app or plugin for your 61850 or 60870 libraries. Please feel free to contact our sales manager Mr. Shoemaker to see how MZ Automation can help your company succeed:
info@mz-automation.de